8 February 2022 |
Briar Ridge

The Hunter Valley is one of the oldest wine regions in Australia, and as such Briar Ridge Vineyard has inherited a rich winemaking tradition that we try to honour with each vintage. Of our wines, there is one range in particular that expresses this heritage: the Stockhausen wines.
For over thirty years, these wines have embodied the classic, regional character of the Hunter and exemplifies Briar Ridge Vineyard's signature style. The Stockhausen series was named and crafted tribute to legendary Hunter winemaker, Karl Stockhausen, and honours both his invaluable contribution to the success of Briar Ridge Vineyard but also the success of the Hunter Valley wine industry.
We're thrilled with how the newest release of 2021 wines has come together. Despite an unusually cool, wet season, a break of classic warm days and cool nights in early January led to exceptional flavour development and natural acidity retention, resulting in a traditionally crisp Hunter Semillon and a lively, flavourful Chardonnay. More moderate weather for the remainder of the growing season yielded a classic elegant Shiraz, with great aromatic lift and cellaring potential.
With the latest release of Stockhausen wines, we also found ourselves reflecting on where we've come from and how we've grown, as well as celebrating the continued development and calibre of these wines. They hold a place near to our hearts, and we know that Briar Ridge Vineyard wouldn't be what it is today without the influence of Karl Stockhausen.
Who is Karl Stockhausen?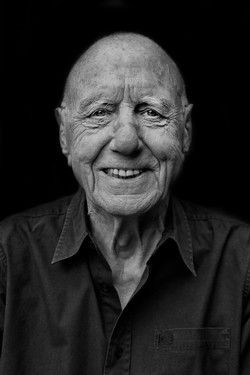 Born in Hamburg, Germany, Karl came to Australia in 1955. He was sent to the old Greta Migrant Camp in the Hunter Valley, where he found work as a vineyard and cellar hand at Lindeman's Ben Ean winery and 'stumbled into winemaking' – and we're so glad he did!
Under the tutelage of Lindeman's Ray Kidd, Karl honed his skills as a winemaker and went on to build a successful career in the Hunter, eventually becoming one of the most awarded winemakers in Australia.
It was in 1991 that he joined Briar Ridge Vineyard, initially as a manager-winemaker and then as a consultant to the winemaking team, with whom he has collaborated in crafting the Briar Ridge Stockhausen Signature Hunter Valley Semillon, Chardonnay and Shiraz wines. Thirty years on, Karl's philosophy remains front of mind for our vigneron and winemaker when selecting the best parcels of fruit for these iconic wines.
Karl's impact in the industry was recognised in 2007, when he was named a 'Hunter Valley Living Legend' by his colleagues, an honour bestowed on those who have given many years of outstanding service to the advancement of the Hunter Valley. And there's no question he's done that.
New Vintages. New Look. Same great wines.
With the latest release of Stockhausen wines, we've chosen to honour Karl with a new label as a testament to his vital contributions to Briar Ridge Vineyard.
Instead of our traditional logo and cream background, we've designed a striking black-and-gold label featuring a portrait of Karl to launch the 2021 wines. The image comes from a series of photographs taken of the Hunter Valley legends taken by Chris Elfes. The photograph was awarded a silver distinction by the AIPP (Australian Institute of Professional Photographers) for the portrait category and was one of the final five images selected for at the Australian Photography Awards Portrait of the Year.