25 October 2021 | Briar Ridge
Back to the future with Briar Ridge winemaker Alex Beckett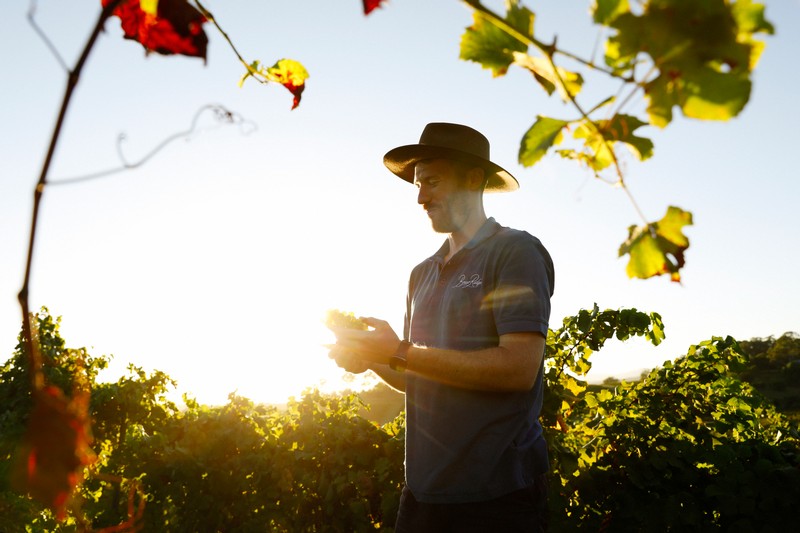 If you ask Alex – and naturally, we did – there's plenty to look forward to when it comes to the future of both Briar Ridge's wines and his own career. It's been a big five years for the local winemaker, but if everything goes to plan, the next five are shaping up to be bigger.
"We're currently fine-tuning and really honing our single-vineyard wines," he says. "Right now, they are considered benchmarks for the region, but I would like them to be benchmarks of their grape varieties in the country, so there's a real pursuit of excellence here."
"We're also continuing to expand our portfolio of alternative and emerging varieties. We've been growing fiano and albariño for four or so years now, and those wines are getting better and better. We did our first vintage of barbera in 2020, we have a malbec coming up and we're also working on cabernet franc and a couple of other miscellaneous Bordeaux grapes that don't always get the time to shine on their own. Developing and playing around with those over time, seeing what works and what doesn't, is going to be really fun and interesting."
Our ever-expanding range of wines certainly keeps Alex's hands full, and though he acknowledges it would probably make his life a bit easier if we limited ourselves, he thinks the willingness to explore is a really important part of Briar Ridge's story.
"While we have this wonderful heritage and a stunning site that can make some of the best grapes in the Hunter, we also have the capacity to make wine a bit more fun. We make wines that aren't particularly common, even if we know that they might be challenging for consumers at first. But it means you can come to our cellar door and taste pristine semillon, fruity verdelho, textural fiano and floral albarino all in the one place… you can experience that diversity of range firsthand, and it also means you're much more likely to find something you love. We also hold lots of cool events – Covid permitting – like blending sessions with members, which get people involved and interacting."
Outside of the winery, Alex is pushing himself further by enrolling in the Masters of Wine program, which he began midway through 2020. Becoming a Master of Wine is considered the top echelon of what you can do in the wine world, and there are only around 400 that have achieved this globally. It's no mean feat – the pass rate is only 15%, and it usually takes around five years to complete. Right now, Alex is nervously awaiting results from his first exam, but is so glad he is in the ring giving it a crack.
"The big thing for me has always been the pursuit of knowledge. I love the tactile and the sensory components of winemaking, which is obviously a huge part of it, but I also don't think that you can make truly great wines without a thorough understanding of where we've been. So many of the grape varieties that we make wine from are from places like France and Spain and Italy, and if you don't have an understanding of what they were doing there to make those great wines, then you're really clutching at straws trying to make wine in Australia.
It's the opportunity to gain a global understanding of wine and go deep into the diversity of wine expression – how much is out there and how much there is to learn – that really drove Alex to take the plunge.
"The program also really teaches you how to communicate about wine," he says. There's nothing worse, in my opinion, than going to a wine dinner and having someone talk at you for 45 minutes. You come out feeling like you've been in a lecture. Learning to say something in as few words as possible, without being pompous, while actually making people understand what you're talking about – that's the intent."
He says he'd love to visit Europe to do some work on the vineyards when we're allowed to travel again. And when he can find the time in between vintages here at Briar Ridge, of course.
"Certainly I have an intention to get over there, but whether I will, we'll see. If I do, the two regions I'd most like to experience would be somewhere in the Rheingau of Germany where they make dry riesling, because stylistically it's so similar to our semillon, as well as Burgundy because I love chardonnay."
As for now, well, it's all hands on deck here at Briar Ridge. For Alex, that means guiding the fruit from the vineyard to the bottle while ensuring we retain the charm and sense of place that makes, and will continue to make, Briar Ridge wines so special.