19 January 2022 |
Briar Ridge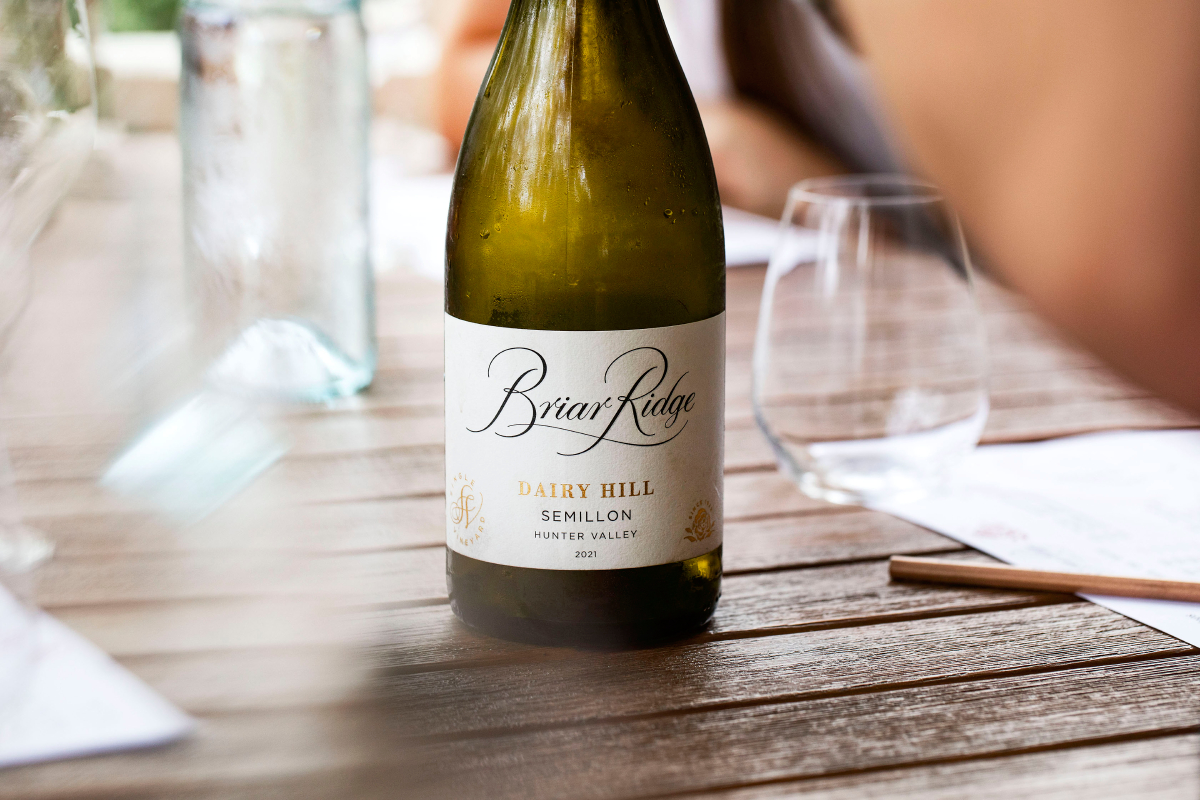 Semillon is typically cast as the supporting actor rather than the star of the show. Its natural intensity and energy make it a natural blending partner, but its potential as a varietal wine often goes unnoticed. Here at Briar Ridge, it's one of our favourite varieties and our winemaker Alex Beckett makes sure to cast Semillon in a leading role.
So it's no surprise that we were absolutely over the moon to learn that Ned Goodwin MW awarded our 2021 Dairy Hill Single Vineyard Semillon 97 points in Halliday's Wine Companion (read Ned's full write-up below). It's the highest score we've received and one of the best wines we've ever made. Our winemaker Alex is "incredibly proud of this wine and excited to see how it evolves in years to come." This is especially gratifying considering the history and significance of semillon here in the Hunter Valley.
Originally from the south-west of France, semillon is characterised by bright citrus and tropical flavours and a generous mouthfeel, though in the Hunter it tends to display more zesty citrus and herbaceous characters along with feather-light alcohol. Frequently overlooked in favour of flashier counterparts – sauvignon blanc and chardonnay – semillon can produce wines of outstanding character in a range of styles with seemingly endless cellaring potential.
It's widely believed that semillon arrived early in Australia's viticultural history – possibly as early as the first fleet – and quickly found its new home in the Hunter Valley. The region's warm, humid climate and frequent summer rains cause headaches for growers. Despite these challenging conditions, semillon has proven popular with winegrowers – its vigour, high yields and tendency to ripen early (before the summer rains) made it easy to like. And the ability to morph over time from a zesty, crisp youngster into a deep golden, nutty, honey-scented old-timer makes Hunter semillon one of Australia's truly unique styles. When given centre stage, it can deliver an Oscar-winning performance.
For semillon to truly capture the Hunter's unique sense of place, meticulous vineyard management and winemaking are essential. And this is certainly the case for our single vineyard semillon, which is made in limited quantities from our unique 'Dairy Hill' block located in Mount View and is only produced in exceptional vintages with the highest quality of fruit. Our vines are cropped relatively low and the grapes are hand-picked to ensure excellent concentration and freshness. The fruit is then gently handled in the winery; chilled and pressed with minimal skin contact before the juice is fermented at 16-18°C in stainless steel. An additional four months on lees provides a soft, textural mouthfeel that complements the semillon's freshness and lively fruit character.
The resulting wine beautifully captures semillon's youthful exuberance. It's light and fresh, brimming with zesty citrus fruit and lemongrass, bright acidity and great length. Crisp, clean and vibrant, it's a serious winner on a warm summer's day and a perfect match for oysters, seafood or antipasti on the deck this Christmas. For patient drinkers, time in the cellar will reward you with the honeyed complexity bottle-aged semillon is known for. You can expect flavours of citrus and tropical fruit to evolve and combine with toast, nuts and honey, while semillon's bracing natural acidity adds balance and length of flavour.
Read Ned Goodwin's Review:
"From the southeast-facing Dairy Hill site. Thinned, green harvested, hand picked and rigorously sorted, the result 37% down on usual volumes. Wild-yeast fermented warmer than the regional standard, all radical in these parts. Left on lees for 4 months post-ferment. I adore the sentiment behind this, but the textural build has been pushed radically. Watch the neighbours! But, I love this. A sign of the future rather than the past. A bright one! Scents of tatami, porcini, lanolin, citrus peel, glazed quince and gin and tonic. White pepper, again. Delicious. Rich for the idiom. Palate-staining finish. Thoroughly impressive."
Get your hands on this 97-pointer here.