4 August 2022 |
Grace Eglit

The Halliday Wine Companion Awards sets the industry benchmark for Australian wines each year. Eight judges from the wine industry including wine critic, founder and vigneron James Halliday AM and Tyson Stelzer, chief editor of the Halliday Wine Companion guide, tasted over 8000 wines from 50 different wineries in their search for the best of the best.

Australia's best of the best!

Widely considered one of the most prestigious and hotly contested awards in the country, the winners were announced last night at the awards ceremony held at the distinguished Stokehouse in St Kilda, Melbourne. And yes, our Winemaker Alex Beckett took home the trophy for 2023 Other White (& Blends) Wine of the Year and a gold medal score of 95 points awarded to 2021 Limited Release Albariño.
"It is an absolute honour to have our Hunter Valley Albariño be recognised as the best other white in Australia by James Halliday and the Wine Companion Tasting Team. The last few years have seen our team put tireless work into evolving the viticulture and winemaking behind our wines so to have that quality recognised is a wonderful feeling. Albariño is fast becoming to us, one of the key varietals for our region and we look forward to seeing the variety's future success around Australia," said Alex.
Judge Ned Goodwin MW (Master of Wine) originally reviewed the 2021 Limited Release Albariño in October last year. See what he had to say;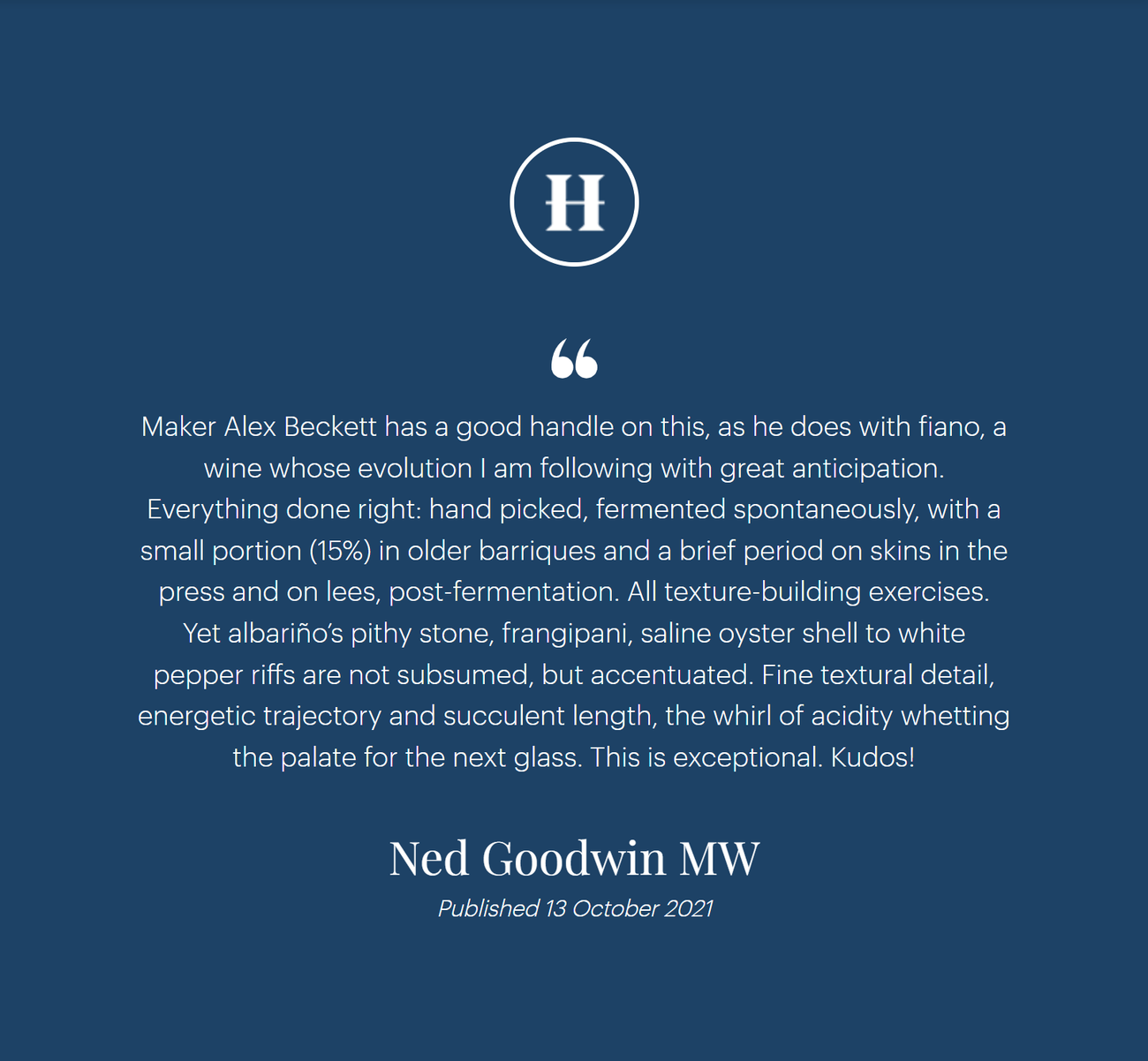 Considered a niche variety with only a handful of producers in Australia, Albariño is from a northern part of Spain called Rias Baixas where it is one of the country's most fashionable white wines.
"Albariño as a varietal has all the aromatics, texture, weight and flavour concentration yet always finishes very clean," said Alex Beckett. "The 2021 Limited Release Albariño in particular, is really floral and super aromatic with a freshness and vibrancy that on the palate is just incredible."
"It's the melding together of the old and the new that makes Briar Ridge so interesting – it's certainly why I enjoy doing what I do. I have the creative freedom to play and experiment and build upon that tradition, respecting what has been done but also improving it as we move on."
Owner of Briar Ridge Vineyard, Jaclyn Davis is excited about the future of the winery with Alex as Winemaker.
"This is a humbling recognition of the work our family and the Briar Ridge team have been putting into experimenting with new varieties and wine styles," said Jaclyn. "With an ever-changing climate, varieties like Albariño will be an important component of the Australian wine landscape in the coming decades. We are proud to be part of the forefront, championing these varieties of the future as well as preserving the heritage of our country through classic varieties and wine styles."
This year Briar Ridge Vineyard is also celebrating it's 50th Jubilee with a Long Lunch in the famed Dairy Hill Vineyard, where it all began in 1972. For those keen to experience everything Briar Ridge has to offer, including the award winning Albariño, the cellar door is open 7 days per week with live music on Sundays.
The Limited Release Albariño is one of our most sought-after wines that consistently sells out within months of release, year after year. We strongly encourage all Albariño lovers who wish to enjoy this wine in the future to register here to find out more about Club Radica.
Club Radica, launching Summer 2023, is a new and exciting wine club program that will be our 'first in, inner circle' for our highly hunted, small batch, rare and premium wines. More to come…