25 October 2021 | Briar Ridge
Celebrating Spain Day with an exploration of our spanish varietals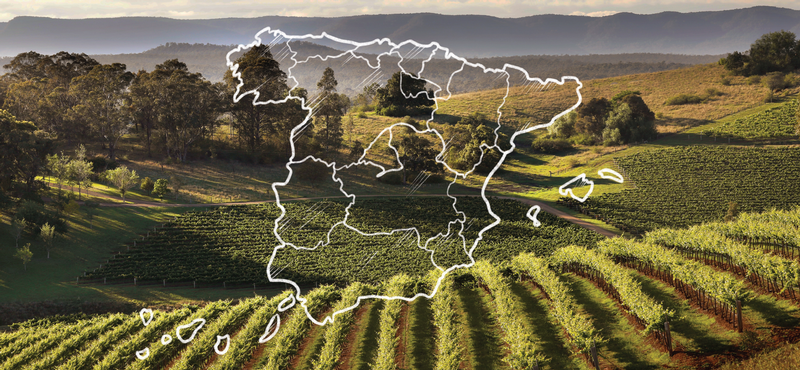 Earlier this month marked the National Day of Spain – an annual holiday for Spaniards to celebrate their homeland, and an opportunity for people around the world to pay homage to what they love most about this special country. And for us, that's easy – their wine, of course!
Not only do we enjoy drinking delicious bottles produced in Spain, we've also adopted a few of their famous grape varietals into our own fold here at Briar Ridge. A huge part of our philosophy is growing and developing wines less commonly found here in Australia, and three of our favourites are from this part of the world. So let's explore what they're all about, and what makes the Hunter Valley an excellent place for them to flourish.
Spain now has more land under vine than any other country and, while it may not have the same lauded reputation, it's the second-largest producer of wine in the world, behind Italy but ahead of France. It's home to over four hundred native grape varieties, though a large percentage of production occurs with just twenty grapes. The three that we produce – tempranillo, verdelho (a Portuguese grape, which we're including as Spanish on account of the Iberian Peninsula), and albariño – are amongst Spain's most notable wine styles, alongside others including cava, a sparkling wine made in the traditional method; jerez, known around the world as sherry; verdejo; and monastrell (called mataro in Australia).
Due to Spain's warm and sunny Mediterranean climate, native Spanish grapes have evolved to thrive in high temperatures, while also being able to stand up to the coastal elements that come part and parcel with a wine region mainly located along a peninsula. Australia shares many similarities with Spain's climate, and the Hunter Valley, with its distinctive oceanic influences, has proven to be a boon for growing Spanish grapes. Though historically the Hunter has been one of Australia's hottest and wettest wine regions, recent effects of climate change have meant less reliable rainfall, making it even more important to focus on grapes that are known to withstand heat stress.
With climate change projections across the country showing further increases in temperature and reduction in annual rainfall within the next ten years, we envision an increase in cultivation of grape varietals from Spain and other mediterranean parts of the world. It seems not only will our exploration of these grapes fulfil our desire to offer our customers a wide range of wine styles, they are also going to become critical to our survival and that of the Australian wine industry at large. Good thing they're so delicious, then!
Tempranillo
Tempranillo is arguably Spain's most famous grape variety, and one of the world's fastest-expanding wine styles. It's very easy to fall in love with – tempranillo grapes produce a deliciously easy-drinking red with vibrant colour and plush fruit flavours. These wines also tend to have medium acid and higher tannins, making them suited to accompanying a wide range of foods. Our tempranillo tends to be full-bodied and flavoursome, with notes of dark red fruits, spice and honey soy and a long and tasty finish. We also often use our tempranillo grapes in a shiraz tempranillo blend, to create a traditional Spanish 'joven' style of wine, meaning it's designed to be drunk young, without the need for cellaring.
Albariño
Albariño is considered Spain's most fashionable white wine, with its crisp fruit flavours and light minerality. Its native home is in the Rias Baixas wine region of Galicia, which is on the north-west coast of the country, close to Portugal. This area is slightly cooler than other parts of Spain, and is classified as a warm maritime climate, just like the Hunter Valley. High-quality albariño grapes produce wines with ripe fruit, low alcohol and high acid, similar to Hunter semillions. This varietal actually has quite the dramatic past in Australia: in 2009, it was discovered via DNA testing that the albariño winemakers were growing and selling was actually not albarino at all, it was savagnin – a grape from Jura in France. This was due to a mix-up when Spanish authorities supplied the propagating material to the CSIRO in 1989, and caused a lot of headaches!
Thankfully, our vines were procured after this revelation, so we know our albariño is the real deal, and is one of only two currently produced in the Hunter. Our first vintage was in 2018, after we did some restructuring of the vineyard to bring in grapes we thought would be better suited to our climate. We were pleasantly surprised at the fruit intensity of the grapes straight away – even in the first crop harvested off very young vines – and it has continued to impress in the years since. This exciting wine is beautifully fragranced, packed with lemon zest and tropical notes, and balanced with texture and a richness from yeast lees. It makes a great match with seafood dishes, as well as mildly spicy foods like chicken satay or nasi goreng.
Verdelho
The Verdelho grape isn't technically native to Spain, but it is to Portugal — which is a very close neighbour and the other country that comprises the Iberian Peninsula — so we figured we could get away with it. It originated in the Portuguese island of Madeira in the Atlantic Ocean, off the coast of Morocco, where it is made into a fortified wine called Madeira.
This is one alternative grape varietal that is certainly not new to our shores – in fact, it was first imported into Australia in 1825 by the Australian Agricultural Company, and its presence in the Hunter Valley dates back to the early 1900s. For years it was also used here in the production of fortified wines, but in recent times it has developed into a more balanced style with a similar weight to an unoaked chardonnay.
​​Grapes for our verdelho grow plump and juicy right beside our famed natural Hunter Valley dam. Fresh, tropical and lively, we consider this wine the perfect all rounder – sure to please many palates with its notes of red apple, guava and passionfruit. It's a perfectly balanced and refined take on the now popular Portuguese varietal, and a fantastic entry point into exploring more alternative wine styles. Salud!